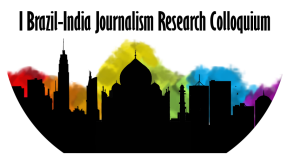 I Brazil-India Journalism Research Colloquium:
Rethinking Journalism on a Global South Perspective
November 6-7, 2017 at the
University of São Paulo, Brazil
Brazil and India journalists not only address the limits of conventional reporting, such as deadlines, but also face additional challenges in their task on the building of enduring reports and carriers. The same phenomena can be noted in the day to day life of professors and researchers of this field of knowledge. In the two countries, many are the obstacles found, from lack of financial resources to an increasing precariousness of the labor markets. Despite them all, however, both professional categories have been producing complex coverages and researches.
This current call for the 1st Brazil-India Journalism Research Colloquium aims to foster the discussions of both communities, encouraging the presentation of challenging scenarios, but also solutions which might contribute to journalists, educators and researchers from these countries.  The objective of the colloquium is to explore the central theme "Rethinking Journalism on a Global South Perspective" and to exam a variety of issues with professional, pedagogical, technological, thematic, and ethical approaches. Practitioners, professors, researchers and scholarship students are welcome.
Interested participants are invited to submit an abstract up to 1,000 words in length via SBPJor's Open Conference System (http://sbpjor.org.br/congresso/index.php/brasil-india/CBI2017/index). The deadline for submissions is June 15, 2017. SBPJor is a Brazilian association dedicated to foster, since 2004, research on journalism (theoretical and empirical work). It publishes the Brazilian Journalism Research (BJR), a tri-annual journal edited in English and Portuguese/Spanish. For further information about the Colloquium please visit our website here.
[NEW] Click here to access the event PROGRAM
Monica Martinez
Scientific Director – Brazilian Association for Journalism Researchers (SBPJor)
Full Professor, Communication and Culture Graduate Program
Universidade de Sorocaba, Brazil
E-mail: sbpjor.diretoriacientifica@gmail.com